March 2021
We are open for to-go and neighborhood delivery on Friday, Saturday & Sunday – 11am to 5pm.
Concerning re-opening for inside dining: Our goal is to get the crew vaccinated and then we will re-open with a little more confidence about our guest and staff safety, all dependent on public health mandates.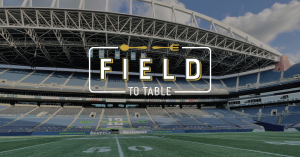 We are excited to announce that we are participating in Lumen Field's four course, Chef's dinner event called Field to Table on Wednesday, March 17, 5:15pm & 8:30pm!
A unique dining experience on Lumen Field!
Click www.fieldtotable.us for more information, our menu and to reserve your spot today!
– Masks will be required when not seated and all tables will be safely distanced from others.
– Groups of 2-6 from a maximum of 2 households are welcome.
– Although there are tents and heaters available, we suggest that you dress warm!
Thank you again for your on going support of our take-away / delivery program. If you are having any difficulty contacting us by phone, please feel free to message us through our social media pages: Facebook & Instagram.
Chef Daisley & the Café Campagne Team
dgordon@cafecampagne.com
---
ARTICLES & INTERVIEWS
Seattle Met – How Three Seattle Restaurants Reinvented Delivery
Seattle's Child Magazine – Gougere Recipe for Kids
Tideway Creative – Black Owned Seattle Businesses
Seattle Times – 2 Seattle Takeout Options That Feel Like Real Treats
Catch 22 Market – Will the Last Small Business Turn Out The Lights?
King 5 Evening News — Doorbell Dinner and a Movie