Café Campagne History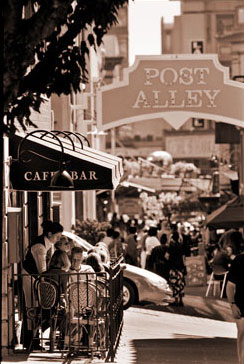 The personality of Café Campagne has grown and evolved considerably from its humble beginnings.  Initially intended to be the 'casual' eatery just underneath its long heralded sibling Campagne Restaurant(1987-2011), the vivacious and approachable Café is now a treasured culinary gem on its own.
In 1994, responding to Seattle diners' interest in more approachable alternatives to traditional fine dining, original owner Peter Lewis seized the opportunity to create a French eatery with a décor and location that  evoked all the aspects of the most cherished marketside cafes around which communities across France have flourished for centuries.   The Café prominently featured a then seldom seen European-style charcuterie case and rotisserie which continually perfumed the air with the aromas of well-seasoned French foods.  The attractiveness and popularity of these items lives on because several of the proprietary item recipes featured in that display are available today to our guests on a routine, if not daily, basis.
The Cafe  was as much a success in contemporary Seattle as it's inspiration has been in France for ages.  The proximity of production to product was a natural pairing that demanded extension.  First, the Café added a warmly lit private event room to its NW corner.  The 'Salle' offers Seattle event planners and would-be hosts the combined benefit of individually prepared foods and expert beverage pairing in a historic venue suitable for private celebrations, benefit functions, business meetings.  Second, the Café opened a patio dining area just alongside historic Post Alley.  The sunny terrace view of the market activities and passersby provides all-day enjoyment for locals and travellers seeking the feel of true European warm-weather dining in one of the most unique and historic spaces in Seattle.
Looking into the future, newly appointed owner Daisley Gordon, seeks to further honour the innate connection between Northwest lifestyle and products and  French culinary roots to explore new  menu offerings. In addition to on-premise dining, the Cafe will also continue to provide guests with take-away options such as the extremely popular cool weather Cassoulet-to-Go to support the highest quality in-home dining experiences for busy Seattle area families, businesses and lovers of authentically prepared French food.
 Café Campagne's  Philosophy
Since opening in 1994, Café Campagne has maintained a consistent commitment to providing every guest with a food, beverage and service experience that is  the best of  informal dining.  Our aim is for this commitment to excellence to foster  an authentic French restaurant experience available anywhere on the West Coast of the US.
In keeping with French standards, we are committed to using only the finest locally and internationally sourced ingredients. We hand craft just about everything in house, including our fresh sausages, other charcuterie, duck confit, smoke salmon and preserved items,  and are extremely knowledgeable about the content of all foodstuffs to support the nourishment and safety of all our guests.  Our wines are individually selected by our Wine Director, who educates our staff in the respectful handling, storage and service of these fine beverages.
Daisley Gordon Bio, Owner & Executive Chef
Daisley Gordon's path to the culinary arts is anything but traditional, but his passion about the craft is ceaseless and unparalleled in yielding diner experiences of consistent quality and lasting satisfaction.
Born in Jamaica to the son of a citrus board official and sustainable gardener, Daisley Gordon earned a BA in Religious Studies and Speech Communications in the Midwest after immigrating to the US.  After a brief career in sales, Gordon took up a position in a well-respected and family owned European catering and fine dining business where he first learned the value of attentive product buying, strong technical skills and a respect for individual customer needs.  Craving further professional development, Gordon entered the Culinary Institute of America in Hyde Park, New York for training with some of the most inspiring and knowledgeable – Certified Master Chefs in the US.  During that time, he developed a close culinary relationship with Certified Master Chef Victor Gielisse, at his Actuelle Restaurant in Dallas, noted for its – commitment to culinary creativity and flawless execution.  After graduating in 1994, Chef Gordon continued to hone his mastery of regional cuisines in hotel restaurants such as the Brown Hotel in Louisville, KY and contributed to seasonal menu development in small independent kitchens.
Arriving in Seattle in 1995, Gordon took on a further challenge – the lead cook at Campagne Restaurant and Café Campagne, standard bearers of regional French cuisine, where he further developed his skills in the French culinary arts employing a new trove of seasonal Pacific Northwest ingredients.  He quickly gained proficiency in bringing out the full flavor and intense beauty of local produce.  During this time, Gordon expanded his understanding of French culinary traditions through working stages in Paris and – visits to culinary meccas throughout France, Belgium and England.  In the summer of 2008, Gordon ranked highly as an Iron Chef America competitor in his creative use of a Pacific Northwest favorite of fresh berries throughout five courses.
Today, Gordon embraces a French obsession with product quality and maintains a personal interest in French culinary history and the evolution of modern dining styles. His commitment to excellence is diverse and centers on a loyal patronage of some of the Northwest's most esteemed purveyors, inclusion of new culinary techniques and a caring mentorship of all his cooks.  Outside of his restaurants, Gordon is a well-respected and cherished member of the local culinary community.  He devotes his talents to benefit Seattle charitable causes in areas of education, health concerns, the culinary arts and many Pike Place Market charities.